Parts of An Expository Essay
Jan 04,2023 | iLovereading.sg Pte Ltd
A strong understanding of the expository essay structure goes a long way in helping students organise their content in a clear and succinct way, and thus, score higher for essay-writing. This simple guide covers the basic elements that should be in any O-Level expository essay.
Like most other essays, there are three parts of an expository essay: an introduction, the body (3 to 4 content paragraphs), and a conclusion. This is also known as the macrostructure of an expository essay. While some people might recommend a five-paragraph structure, it is not a hard-and-fast rule.
The first main component of an expository essay is the introduction. One similarity that the expository essay shares with the argumentative essay is that the introduction to both essays should contain a clear and concise thesis statement – your stand on the issue in one sentence.
Providing some background context, especially for a controversial and complex issue, also helps to ease the reader into the main topic of discussion.
The next basic component, the body paragraphs, form the bulk of your essay. Unlike the argumentative essay, a counterargument and rebuttal paragraph is not required for the expository essay. Instead, your body paragraphs should provide a balanced view of the issue. Depending on the question, you may be discussing the advantages and disadvantages of a trend, or the different aspects of a position – the possibilities are endless!
There are many ways to organise the discussion across the body paragraphs. Common ways of organisation include:
comparison and contrast

chronological

cause-and-effect

Etc.
For example, a question may require you to discuss the problems in relation to a particular issue and suggest possible solutions to these problems. In this case, you can approach this question by using a problem-solution structure – list a problem, explain it, and suggest one corresponding solution in each paragraph.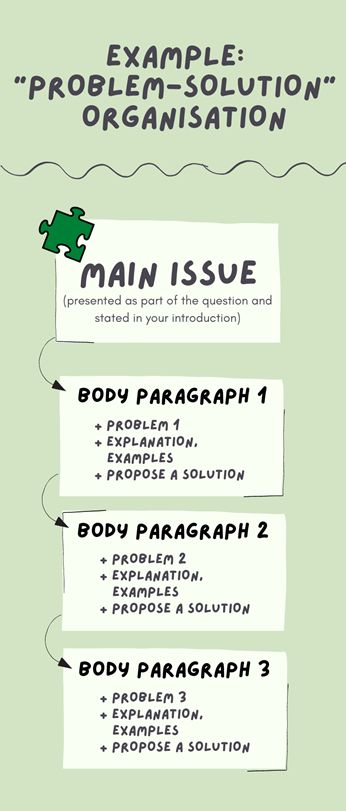 Tip: Remember to explain how each solution can solve the problem!
Take note that this is only one possible structure you can use – you should choose the structure most apt for the question you're working on!
The last key element in the expository essay is your conclusion, where you should reiterate your stand and main arguments. You can also propose a solution to the central problem that you discussed in your essay. One common mistake that students make is introducing new information in the conclusion, which can confuse readers!
With a clear structure, your expository essay now has a logical flow to it, and reads more cohesively to the examiner. You're now one step closer to getting that 'A' grade!
Comment