Get your Instagrammerteenager reading more and doing better inthe English exam
Inspire magazines are specially written with #trending topics in order to get your teenager to spend less time surfing the internet and more time reading enrichingcontent.
Every issue ofInspiremagazine has been written to help yourteenagerdo well in all 4 papers of the GCE "O" Level English exambycovering#trending topics they care about and will want to read.

Each issue also contains QR codes to YouTube videos toengage a young reader in digital ways, as well asinspirational stories to encourage your child to dream big and fight against hardships.
The issues are filled with articles discussing topics relevant to a teenager today, andare written in thebelow 5essay formatstohelp your child master all 5 writing styles:
Argumentative Essay
Descriptive Essay
Expository Essay
Narrative Essay
Personal Recount Essay
Inspiremagazineiswritten by a team of highly qualified former MOE teachersand also includesworksheets and even oral and listening comprehension exercises to help studentsdo better in all 4 papers of their English exams.
Inspire magazine was nominatedBest Education Title by Singapore Book Awards in 2018.Inspirewill help your child to:
Master the 5 essay formats
Develop critical thinking, writing, reading, listening, and oral skills
Increase general knowledge
Issue 29 - "Young At Work"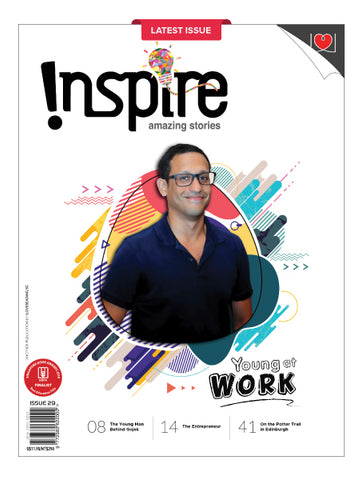 Meet the young owner of Gojek, and the young man who did not let his disability get in the way of pursuing his passion in acting. Get to know the Jewish teenager Anne Frank whose diary changed the world. This issue aims to inspire young people, with a focus on young leaders, young volunteers and young entrepreneurs.
Issue 30 -"Fusion" (publishing in April)
Fusion - of food, races, cultures, the arts, and even languages. How popular are fusion foods? What does a fusion dance performance look and feel like? Are modern languages fusional languages? Should colloquial languages be encouraged? What are the challenges faced by those of mixed identity? This theme allows an interesting exploration of a wide variety of issues.

Issue 31 - "The Evolution Of Online Platforms" (publishing in

July

)
Online platforms today have redefined study, work and play. They have risen significantly in popularity in recent times, partly due to the global lockdowns caused by the coronavirus pandemic. TikTok, Zoom and Google Meet have become favourite platforms for online learning, work and even for virtual social gatherings. Social gaming has also been on the rise, with video games such as 'Minecraft' and 'Overwatch' being played with online friends on a virtual platform. Are these online platforms helping us lead a better life?

Double Issue 32 + 33 - "The Exam Issue" (publishing in

August

)
Exam time? Let us help. Inside this double issue is a treasure trove of original essays (of different genres) and comprehension texts, paired with detailed notes and exam-styled worksheets, and peppered with thoughtful illustrations.
A range of topics will be covered, with an explicit focus on skills to ace the Paper 1 and Paper 2 components of the GCE O-Level English Language examinations. We also share tips and common errors.
Order your 2021 issues today!
Newly published issueswill be delivered straight to your mailboxin February, April, July, and August.
Issues already published up till the point of purchase will be delivered within 5 working daysof ordering (i.e. If a purchase is made in June 2021, the February and April issues will be delivered within 5 working days of ordering)
Follow us onFacebookorInstagramfor regular updates.
Get yourInstagrammer teenager reading more and doing better inthe English examwith Inspire magazine.