Dear Parents,
Have one child in upper primary, another in lower secondary, and finding a way to get both reading more and doing better in school? We've got the perfect combo for you!
For upper primary: i Magazine (for 10 y/o+)
Get your Gen Z child reading more and doing better in the PSLE English exam
Are you struggling to get your upper primary child to be more well-read? i magazines are specially written to get every young Gen Z student reading more and doing better in all 4 papers of the PSLE English exam.
It contains #trending topics that would interest a young reader 10 years old and above. The articles are written by former MOE teachers and will increase general knowledge of your child, which is especially important to do well in the Oral and Writing components of the PSLE exam.
Each issue also contains QR codes to videos and audio clips to excite and engage a young person in digital ways for the below:
Model examples of Oral stimulus-based conversations
Listening Comprehension practice
YouTube videos to supplement content discussed in the articles
i magazine will help every reader to:
Be more knowledgeable about trends in Singapore and the world
Expand their vocabulary
Improve in writing skills, language use and comprehension skills, listening comprehension skills, and oral communication skills
Issue "The Gaming Issue"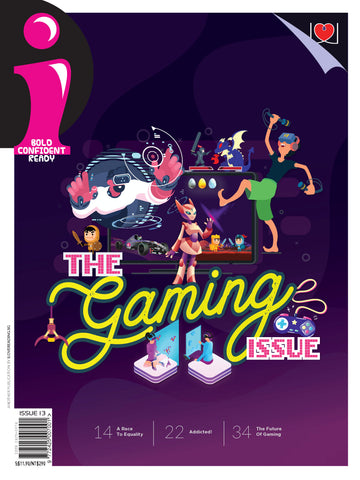 Our first issue promises an action-packed ride into the world of gaming. From walkthroughs, gaming addiction and the unique struggles of female gamers to cloud gaming and new careers in the gaming industry, there is no dearth of ideas to banter about.
Issue "The World Of Fantasy"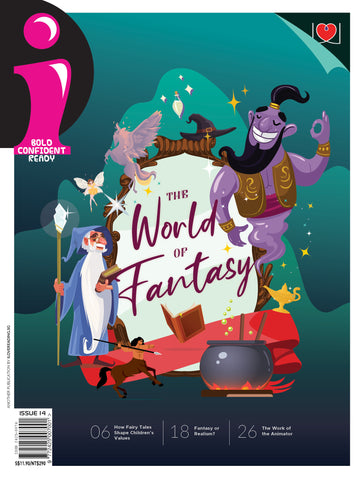 Do your students have their heads in the clouds during lessons? Perhaps they are 'lost' in the world of fantasy movies, stories and games? Teach them to read between the lines with this fantasy issue, where we will delve into Disney remakes that subvert gender stereotypes, as well as uncover some lessons that we can learn from popular movie characters.

Issue "The Korea Issue"
KPop, KDrama, K-cosmetics. Samsung, LG, Hyundai. The Korean wave has quietly but surely started to lift us off our feet! We explore the reasons behind the Hallyu, and promise to delight the readers with snippets of Korea's best.
For lower secondary: Inspire Magazine (for 12 y/o+)
Get your Instagrammer teenager reading more and doing better in the English exam
Inspire magazines are specially written for Generation Z students aged 13 and above with #trending topics they care about and will want to read.
Each issue contains QR codes to YouTube videos to engage a young reader in digital ways, as well as worksheets to help your child improve their language and critical thinking skills.
The publication is written by a highly qualified team of MOE-trained former teachers to help secondary school students do better in their English exams.
Inspire magazines cover #trending topics in the below 6 essay formats to help students master all 5 writing styles:
Argumentative Essay
Descriptive Essay
Expository Essay
Narrative Essay
Personal Recount Essay
Inspire was nominated Best Education Title by Singapore Book Awards in 2018. By engaging your child with #trending topics and digital media, !nspire will help your child to:
Master the 5 essay formats
Develop critical thinking, writing, reading, listening, and oral skills
Increase general knowledge
Issue "The Unconventional Route"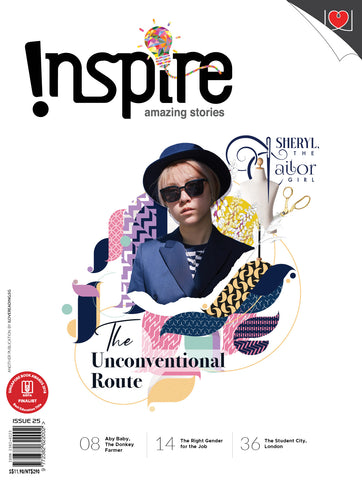 What is it like to be a social media manager? How about a quantum cryptologist? In this issue, we find out why so many millennials are flocking to unconventional jobs, and how traditional jobs are becoming obsolete. Let this issue inspire your child to take on exciting jobs with novel responsibilites!
Issue "The Olympics"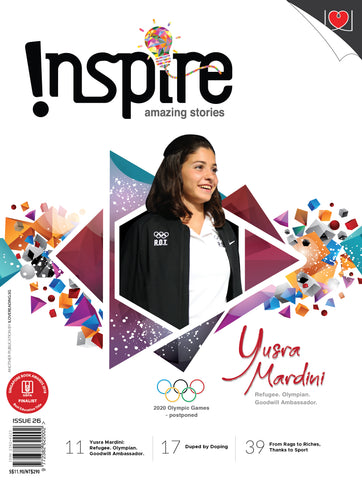 Even though the 2020 Olympic Games didn't happen as planned, we still go on a fascinating journey beneath the surface of Olympic glitz and glamour to unearth its underbelly of grime and crime. We also shine the spotlight on female athletes and what it takes to become a champion. The journey is never easy and the rewards are sometimes bittersweet.
Issue "Gastro Mania!"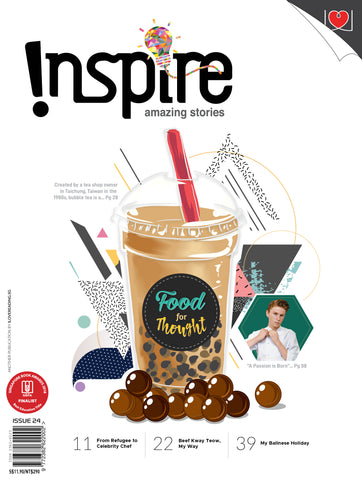 Bubble tea - many teenagers queue hours for it, some turn their noses up at it, parents warn their children against drinking too much of it. What exactly goes on behind the hype? This issue delves into the world of food fada, trends and developments - all things salted egg, truffles and edible gold.