Reading is a lifelong journey that requires time, effort and consistency. It should be caught and not taught. The habit does not form overnight, rather it is with exposure and constant nurturing that a child hones their skills and deepens their understanding of the world around them.

With our youth spending the majority of their time in schools, adopting a reading programme helps to facilitate this learning process and scaffold the individual's cognitive development. Ultimately, this creates an environment that supports their pursuit of growth through reading.

ILOVEREADING.SG aims to supplement our reader's learning experience by providing a full range of publications catered to pre-schools, primary, secondary, international schools and junior colleges.

Take a look at what each series readily offers: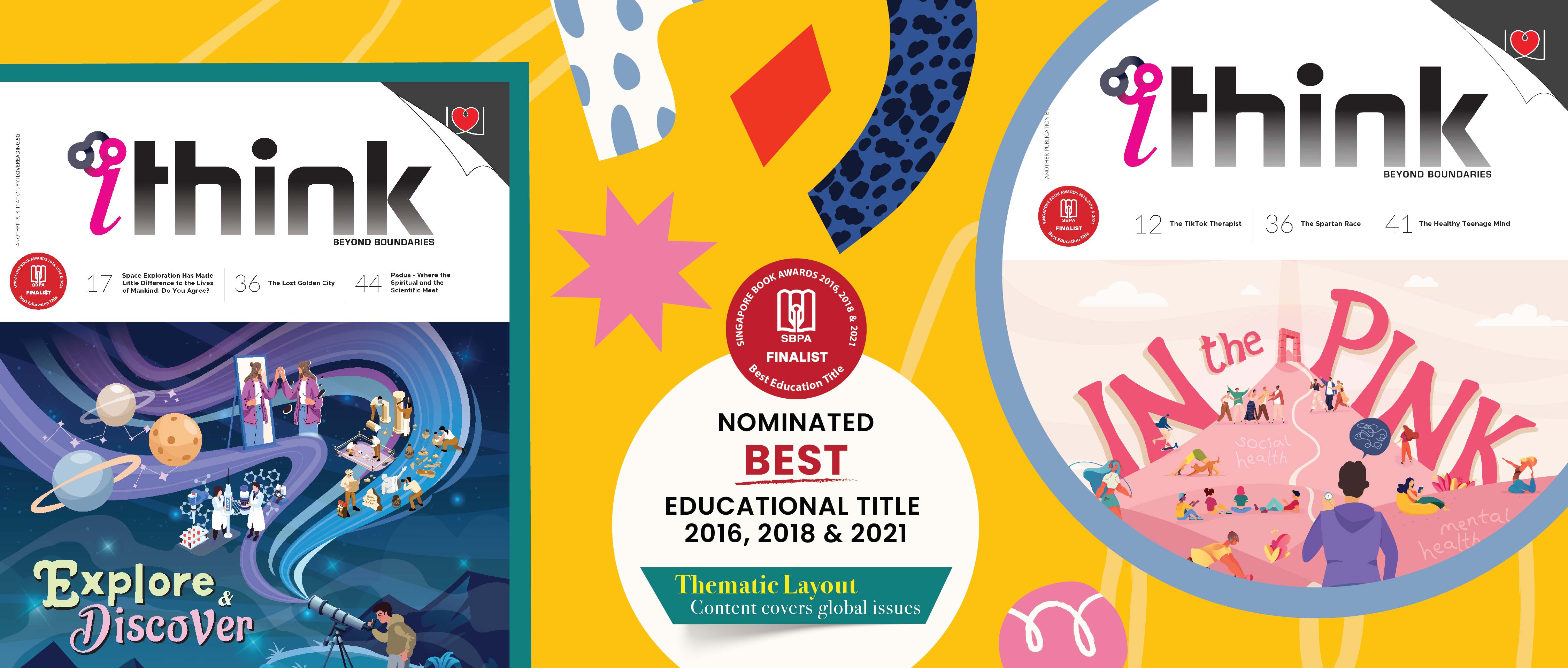 The iTHINK magazine is a most interesting read to boost the language and critical thinking skills of upper-secondary students and high-ability lower-secondary students. With an engaging mix of thought-provoking articles and lighter stimulating reads, iTHINK is the one-stop solution to making reading both a leisure and an intellectual pleasure to students.

iTHINK symbolizes the magazine's focus on critical thinking by adopting the thematic model.

The content of this educational magazine for teens in Singapore was created bearing in mind the current MOE syllabus objectives and exam requirements while maintaining the quality and concept of an interesting non-academic teen magazine.

Each issue comprises model essays, situational writing pieces, and comprehension texts. Each article/section is accompanied by notes; the comprehension sections also include comprehension questions, crafted carefully to closely follow the 'O' level format and standard of questions.

Each issue also includes student essays. These include both Model student essays and Tweak student essays, the latter being essays that require some improvement. The Tweak essays are then modified slightly and the modified essay is printed side-by-side with the original one. Seeing the essays written by their peers serve as a motivation for our student readers.

Much thought has also been put into the page layout and graphics that accompany each article, in order to best engage the student. The iTHINK Write Issue is popular among upper secondary students and teachers, and we have been encouraged by the positive feedback.

iTHINK was nominated Best Educational Title in 2016 and 2018 by Singapore Book Awards 2016 and 2018. Its content also serves as useful teachers' resources in Singapore.

iTHINK will help you to:
Be engaged in stories and issues which teenagers face on a personal basis

Develop critical thinking, reading and presentation skills

Prepare well for higher-level essays and comprehension exercises which are important in secondary school syllabus

Inspire a love for reading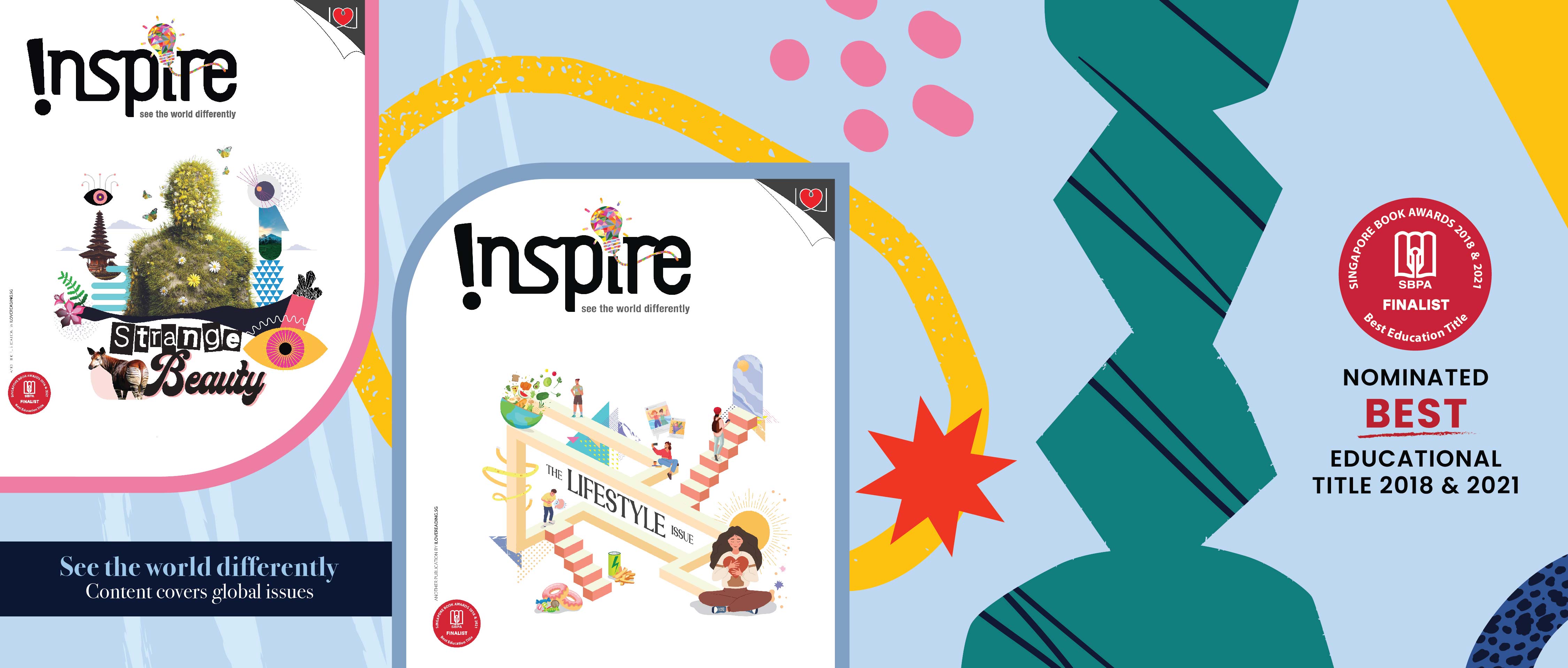 INSPIRE is akin to a 'tonic', inspiring students to love reading, and be inspired to better themselves. The slew of interesting articles that cover a range of topics in each issue provide students with more than just entertainment, serving to tickle their intellectual curiosity and kindle a love for lifelong reading and learning.

INSPIRE is an upper primary and secondary school magazine targeted at young readers from 11 years and above.

True to its tagline, 'Amazing Stories', this magazine features fascinating fiction and nonfiction stories.

Each issue comprises model essays, situational writing pieces, and comprehension texts. Each article/section is accompanied by notes, and the comprehension sections include comprehension questions, crafted carefully to closely follow the 'O' level format, while the standard of the questions caters well to the lower secondary students.

Similar to the iTHINK Write issue, the INSPIRE Write issue also includes student essays. These include both Model student essays and Tweak student essays, the latter being essays that require some improvement. The Tweak essays are then modified slightly and the modified essay is printed next to the original one. The student essays motivate our student writers and create an interest in writing.

The judicious use of images and colour make the issue more interesting for the students and motivates them to pick it up and read. The INSPIRE Write Issue has received lots of positive feedback from lower secondary school students and teachers.

INSPIRE was nominated Best Educational Title in 2018 by Singapore Book Awards 2018.

INSPIRE will help you to:
Observe various themes and interests

Engage with language games

Practice with exam-type questions

Be exposed to different writing styles

Ignite a love for reading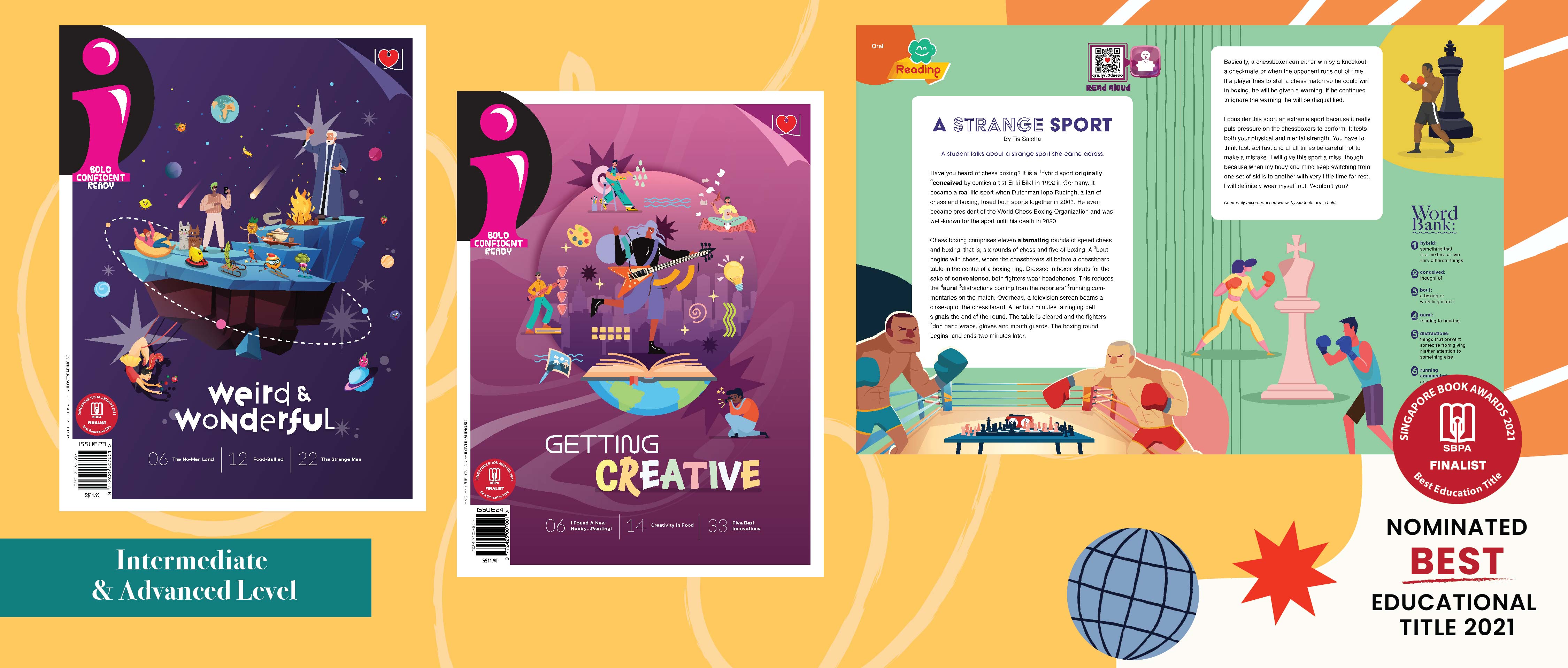 Be Bold, Confident and Ready with "i" magazine

What do you get when you blend English language learning with five cups of entertainment, ten tablespoons of confidence boosters, ten tablespoons of fun and a dash of mischief? The result is "i" magazine!

"i" magazine is an upbeat theme-based read that features articles and comic strips of current and interesting topics such as food (Chomp), popular media (Media Mania), and wild animals (Walking with the Wild).

It also features regular sections such as Growing Pains (Life Hacks!), Line of Work (Career), The Red Carpet (Inspiring Personalities) and Lang Game, which are popular amongst our young readers. "i" magazine is all about the learner.

"i" is an enrichment magazine in Singapore that stands out boldly from the rest. If you have learners who have little interest in reading and cannot seem to get past the first page or if you simply want to provide an exciting reading experience for your child, let them read "i" magazine.

The texts in this enrichment magazine in Singapore follow closely the standard and format of texts outlined in the MOE English Language syllabus. The Lang Game section consists of crossword puzzles, word search and anagrams whereas Growing Pains helps students understand and manage their emotions better.

The issue includes essays, reading and listening texts, among others. The use of QR codes for audio recordings of listening and oral activities also makes it a more interesting and effective experience for the students.

"i" magazine also contains info bites, brainteasers, YouTube videos, SEL questions and word banks.

"i" magazine will help you to:
Boost your confidence

Increase your knowledge

Be entertained and inspired

Better manage anger and stress

Improve your English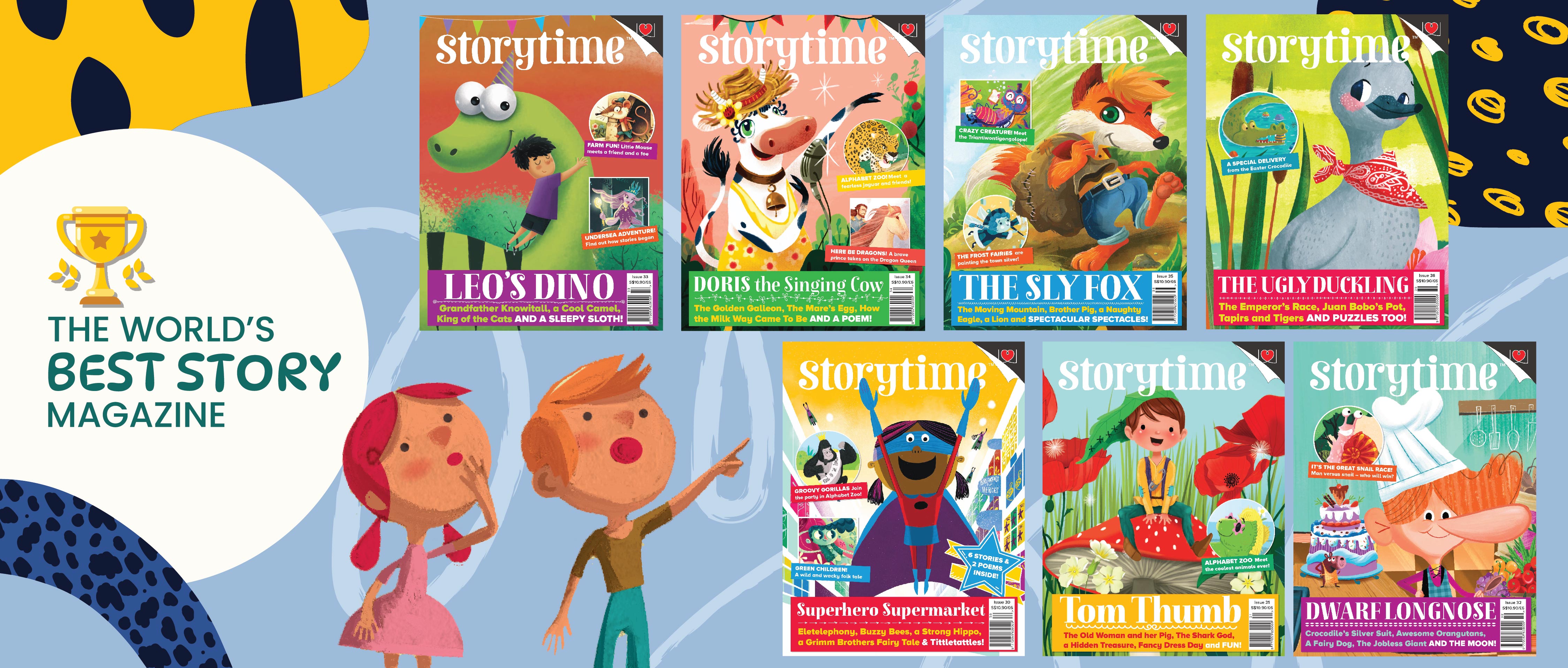 Storytime is a magazine for kids in Singapore full of awesome stories.

It's packed with fairy tales, legends, poems, word banks and much more – all beautifully written and illustrated, with puzzles, games and colouring too!

Every issue of Storytime comes with one classic story, one or two poems and an extract from a favourite children's book. The variety of stories are perfect for young readers.

Some stories include:
The Hare and the Tortoise

The Lion and the Mouse

Town Mouse and Country Mouse

Jack and the Beanstalk

Three Little Pigs

The Cat Maiden

The Three Fishes
Find out more about the brilliant stories inside!

Storytime will help you:
Learn morals and life lessons the fun way

Inculcate a love for poetry

Spark interest in English through stories

Engage in the appreciation of cultures through classic tales from all over the world

Taste the essence of children's literature with abridged extracts
Our school has subscribed to the iThink and Inspire magazines for our students over the past 12 months. An amazing resource that we recommend to other schools.

Both magazines are wonderful interactive reading resources used within our English department to support our teaching and learning. The articles and images are relevant, vibrant and current and as educators we are continually looking for resources that promote student engagement. The content of each page connects powerfully with the context of living and growing up in Singapore.

The interactive commentaries, word challenges and comprehension activities allow students to take ownership of their own learning and teachers have often found them working together in groups to solve the crosswords or listening with shared smartphones to the links provided. This is without any direction from the teachers.

The iTHINK magazine additionally supports the IB Diploma English B course which is developed around broad themes. The breadth of topics explored within each edition allows teachers to select relevant articles that align with the issues being explored in class, develop general knowledge and vocabulary and more importantly allow an appreciation and understanding of the people and landscape of Singapore. The articles written by students are particularly useful writing examples.

We continue to use the Inspire magazines across Years 7-9 in particular and the students eagerly await each new edition with their glossy photographs, interesting headlines and captions. The magazines are thoughtfully edited with attention to different text types and genres which are useful when examining audience and composition.

Our school will continue to subscribe to both Inspire and iThink as the feedback is always positive and we are happy with the flexibility in which the magazines can be incorporated into our curriculum.

A wonderful resource that is always delivered on time with excellent customer service and keenly anticipated by our staff and students.
Nexus International School, Singapore